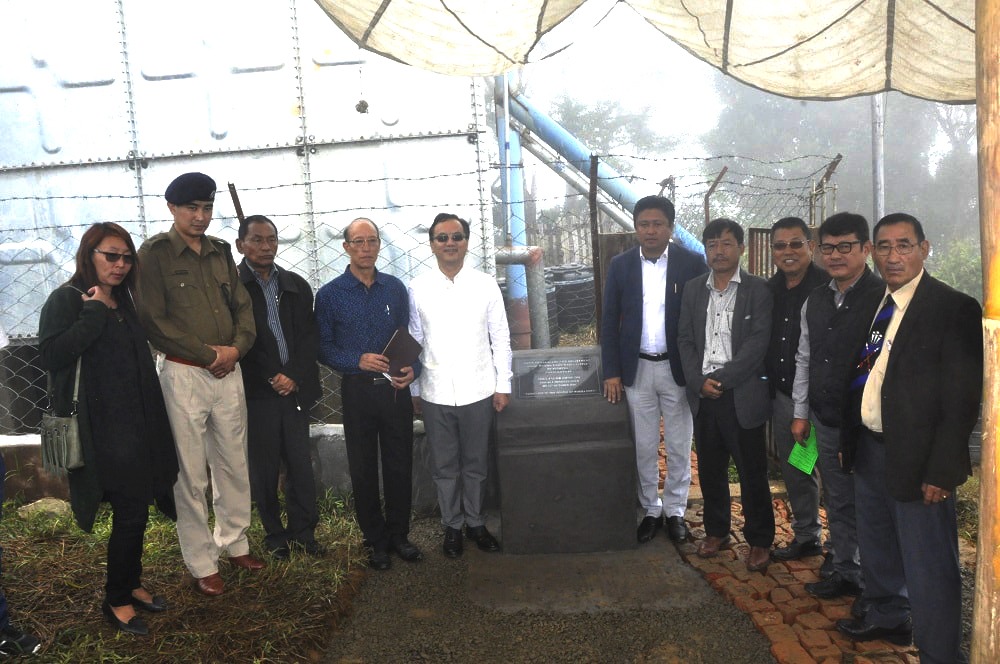 Hon'ble Minister PHED Jacob Zhimomi at the Commissioning of Water Supply at Wokha on 12th Oct 2018 with the various stakeholders
Minister for PHED, Nagaland, Jacob Zhimomi commissioned the Augmentation of water Supply to Wokha Town at Witter Theological College (WTC) compound, Vankhosung on 12th Oct 2018.
The Minister while addressing the gathering during the commissioning programme thanked and congratulated all stakeholders involved for their efforts in successful completion and commissioning of the augmentation project on time and stated, "government is only the falicitator of an asset created for the people" and appealed to all sections of people to utilize it judiciously.
Stating that the Government acts as falicitator where schemes and development are implemented for the public, he urged the people to use the newly commissioned water supply effectively with a sense of ownership and called for protection of the catchment area by planting more trees for sustainability of the project.
Commissioner & Secretary, PHED Nagaland Dr. Maongwati Aier, IAS who chaired the programme in his opening remark congratulated both the Government/department and the Wokha village for making the project a reality for the benefit of the dwellers of Wokha town.
The scheme which was started in the year 2013 was completed with a total expenditure cost of Rs.1870.75 lakhs. This scheme is a single-stage pumping where water will be pumped from catchment area to Pressure Break Tank located at WTC compound, Vankhosung and distributed to the town by gravity system installed at NAP camp and Ganga Post.
Through this project the dwellers of Wokha town will now be getting 6 lakhs cubic litters per day during the lean season which will benefit (600) six hundred household covering 20 sectors.
While delivering short speech, Secretary Lotha Hoho, Er. Mhondamo Ovung urged the citizens of the Wokha town to use the facility with sense of ownership and urged the department that the project should be on sustainable mechanism to benefit the dwellers of the town.
Chairman Wokha village Council, while thanking the Government for choosing the catchment area in Wokha village area also urged that government to honour the MoU signed between the two parties. He also assured the department that the Council will protect and take the ownership for the success of the project.
Later in the day, the Minister PHED Jacob Zhimomi also visited the EE (PHED) office and had a brief interaction with the officers and staff.